When I (Laurie) hear Bing Crosby's "Silver Bells," I am reminded of joyful times with family and friends around the holidays.  My husband and I have been together since we were 17.  Memories of Christmas with his Grandma Fran are cherished.  When I was invited to join his family for Christmas dinner that first year, I was nervous.  I had been told the stories of Grandma Fran's delectable oyster dressing, but I wasn't too sure I wanted to try it.  I struggled with that one:  do I upset her by passing the bowl without trying a bite, or do I risk the chance of gagging in front of everyone at the dinner table?  I ended up trying a bite…one bite.
While watching their family exchange gifts with each other, I learned Grandma Fran had hidden a few presents under the tree for me. I felt so loved.  She later shared some of her baking secrets with me, and Travis and I were given her treasured cookbook when she passed away.  When I bake with our daughters today, I tell them Grandma Fran's cookies were so delicious because she stirred the batter with her finger, providing a little extra sweetness.  I mean, that had to be it because I can follow her recipes exactly, yet something always seems to be missing.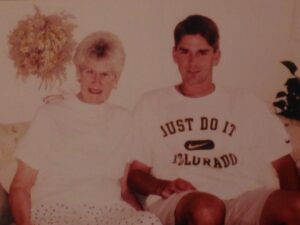 Over the past couple of years, we've had a few new faces around our holiday table.  I have tried my best to follow Grandma Fran's warm and welcoming ways.  Even though she passed away during our senior year of college, the example she set for me when I was a teen made a huge impression on me and continues to influence me today.
Mary Ellis
Let's see…. The first time I spent Christmas with my future in-laws it was during my senior year of college. I remember it was Ken's dad who did the cooking, which surprised me. My own father barely knew how to boil water. His menu included candied ham and cold potato salad which was my second shock. My mother only made that for summer picnics. But by far the greatest shock was midnight Mass at St. Ignatius Cathedral in Cleveland. Ornate soaring ceilings, magnificent stained glass windows, everything over-the-top for a girl who'd grown up in very small, very plain Methodist churches.  I positively loved it! We went to midnight Mass for years even though we attended my church on Sunday mornings. The photo is of me in Cleveland on Christmas.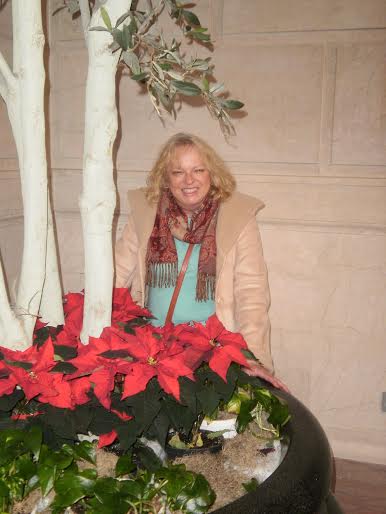 Jennifer Beckstrand
The first Christmas we were married, we spent the holiday in Arizona at my husband's brother's house with his family of five young daughters. My mother in-law and father in-law were there as was another brother in-law. It was quite a house full! I was completely enamored with my adorable nieces and eager to please. Earlier in the month I sewed dresses for their Cabbage Patch dolls. (Be assured, my sewing phase didn't last long.) They were very gracious about the gifts even though the sewing was pretty clumsy. I'm guessing those dolls didn't wear their new wardrobe much. The only other thing I remember about that holiday is that one night we went out to dinner at a Mexican restaurant, and I spent the better part of the night throwing up. I discovered something wonderful about my new husband. He was willing to hold my head while I threw up. I knew it was true love!
Kelly Irvin
This is an easy one for me! Tim and I got married on Valentine's Day (so there's that holiday) and then we headed up to Tim's parents' cabin in Timberon, N.M., for our honeymoon. Tim's birthday is February 18 so we celebrated that while we were there. (His mom wanted to send along a cake. I suspect she was afraid I wouldn't know how to make one.) I made his favorite angel food cake with chocolate frosting. Timberon in the winter time is beautiful and it snowed while we were there so it was very secluded and romantic. Until we realized we were sharing our space with a bat! We didn't know it was there at first, but then one night I awoke to hear something flutter overhead. The ceiling fan was on to circulate the heat. Tim was the first to figure out who had joined us. He popped out of bed, but before he could do anything, the bat flew into the ceiling fan and fell into our suitcase (which was empty, thank goodness.) Ever the quick thinker, Tim slapped the suitcase shut, zipped it up, and raced it out to the porch. In the morning, he peeked and found that the bat had expired from its wounds. Needless to say, the suitcase ended up the trash bin. Aside from being memorable as our honeymoon, this holiday retreat stands out in my mind as one of the more interesting ones we've enjoyed in the last 27 years!
Beth Shriver
While on safari in Zimbabwe we celebrated Christmas together, it was Winter there and May back home!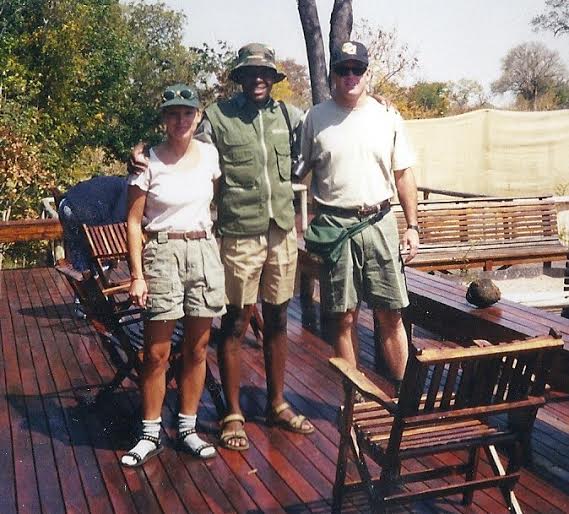 Chelsey Emmelhainz
Our first Chris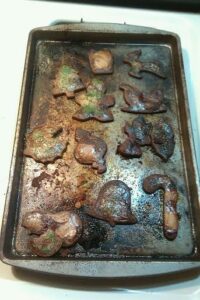 tmas together was also the first holiday we'd spent in a strange city, away from our families. We'd only been in New York City for a few months, so Matt and I decided to make it special—and most importantly, ours. We explored our new city and tried to fit in as many (free) New York City Christmas tourist activities as we could: visiting the tree at Rockefeller Center, walking Fifth Avenue and admiring the window displays, eating chestnuts from a street vendor, etc. And five years later, some of those activities have become traditions for us; now, Matt couldn't imagine a Christmas season without a bag of roasted chestnuts! As a result, rather than being sad about not being home for the holiday, our first Christmas was really special—because we spent it together. We even decorated and tried to make Christmas cookies. Of course, we were in a tiny apartment with an ancient oven, so not everything turned out like we planned! But the surprises—and the joy of discovery—was what made that first Christmas really special.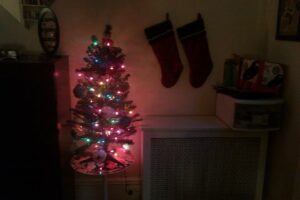 Shelley Shepard Gray
Every time I think about the first Thanksgiving that Tom and I spent as husband and wife, I can't help but laugh. We were living in Dallas and for some reason, weren't going to either of our parents' homes for the holiday. Even back then, I loved to cook, and I was so excited about the challenge of putting together a turkey dinner for just the two of us.
Tom was excited, too, but mainly because our day in the kitchen meant he got to try out our new camcorder. (It was one of those mammoth recorders that rested on his shoulder, remember those?) We decided to document the whole preparation process so we'd always have the memory to look back on. Therefore, I cooked (which meant I opened a whole lot of cans) and Tom filmed me cooking. He'd ask me all kinds of questions, and I'd giggle and reply in my thick Texas drawl.
Finally, our dinner was done. We carried it all to our little kitchen table and switched places. Now I was in charge of filming my husband carving our very first bird. So exciting!
I had a whole commentary going, chatting about who knows what, when Tom got out the knife, starting cutting up that turkey. Then he paused. Frowned. Turned that bird around. And said those fateful words:
"Shelley, there's something inside it."
Yes, we cooked our first turkey with two plastic bags inside. We'd had no idea that one was supposed to take those out. And yes, we also have Tom on tape grimacing as he reached his hand in that bird and pulled out those turkey bags, all while I said, "Oh, Tom!" in a sweet little high-pitched whine, over and over.
Of course, we did what any pair of newlyweds no extra money did-we tossed out those bags and ate our Thanksgiving feast. Then, when we saw our families, we shared the video. As you can imagine, it was pretty funny. I still remember my father laughing until he cried.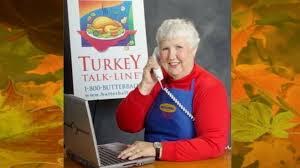 Thank you for allowing us to share our stories with you throughout the year.  It's been fun! We wish you a Happy Thanksgiving and a Merry Christmas!
Shelley and Laurie